DiAnoia's Eatery, an Italian Restaurant in Pittsburgh, PA, combines the dining experience of your favorite Italian vacation with the warmth and coziness of a friendly neighborhood restaurant. Owned by Chef Dave Anoia and his wife Aimee DiAndrea, DiAnoia's Eatery is an Italian deli and cafe by day and full-service ristorante by night that specializes in homemade pasta, pastries, bread, sandwiches, and more.
DiAnoia's is the perfect place for a quick morning breakfast sandwich and zeppole or a sit-down gathering place for friends and family who love to talk with their hands and eat fresh-made pasta. The wine, coffee, and cocktail bar also features a mix of Italian wine, amari, spirits, and espresso beverages that are sure to please.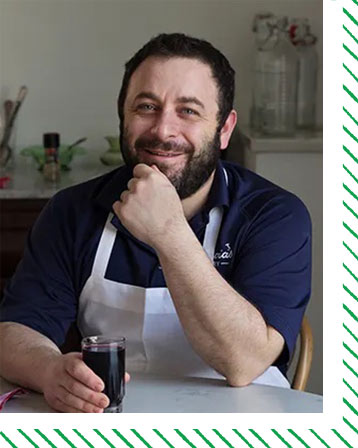 CHEF
DAVE ANOIA
Dave Anoia, from Lebanon, PA has been in restaurants since 1998. Dave is currently the chef and owner, along with his wife Aimee, of DiAnoia's Eatery, which opened in the Strip District in November of 2016.
Early on in Dave's restaurant career, he worked under chef Brian Pekarcik at Arterra in San Diego, CA. Dave later joined chef Brian to move to Pittsburgh and open Spoon and BRGR in East Liberty, where Dave served as the sous chef of both restaurants. He was quickly promoted to Executive Chef and stayed with the company for six years until May of 2016 when he left to pursue DiAnoia's Eatery.
In 2019, Dave, along with his wife Aimee, opened Pizzeria Davide. Dave is passionate about Italian cuisine and loves sharing his food with Pittsburgh at DiAnoia's Eatery and Pizzeria Davide. #CHEFSPOTTING
Aimee's grandfather on her mother's side, Eddie (Rosario) Papsidero, during WWII in the army at Medford Air Field in Oregon, was about to be shipped out, when he asked the commanding officers if he could cook them dinner. He made his mother's recipe of spaghetti and meatballs, which led the commanding officers to change his assignment when they insisted he stay on base and become the chef. Aimee's mother, Kathy DiAndrea, passed the recipe from her father on to chef Dave and it's now the recipe that is served at DiAnoia's. ​
Now accepting reservations 6 weeks in advance. If the date and time you are looking for are booked,
you may add yourself to the waiting list by clicking "notify" in Resy.
Additionally, we have a bar and outdoor seating available for walk-in guests.
Looking for a reservation for 9 or more guests?
Check out our Family Style dining option here.
Book your DiAnoia's Eatery reservation on Resy
DiAnoias's Eatery was named one of Yelp's top 100 places in the US to eat in 2021, voted 2019, 2020, 2021, and 2022 Best Italian Restaurant in Pittsburgh by PGH City Paper, 2018 Best Restaurant in Pittsburgh by The Manual, one of 2018, 2019, 2021, and 2023 best restaurants in Pittsburgh by Pittsburgh Magazine, and Pittsburgh Quarterly Restaurant Review Board Top 20 in 2020.