Named one of Yelp's top 100 places in the US to eat in 2021, voted 2019, 2020, 2021, and 2022 Best Italian Restaurant in Pittsburgh by PGH City Paper, 2018 Best Restaurant in Pittsburgh by The Manual, one of 2018, 2019, 2021, and 2023 best restaurants in Pittsburgh by Pittsburgh Magazine, and Pittsburgh Quarterly Restaurant Review Board Top 20 in 2020. Family-owned and operated Italian restaurant that specializes in homemade pasta, pastries, bread, sandwiches, and more. Open for breakfast, lunch, and dinner.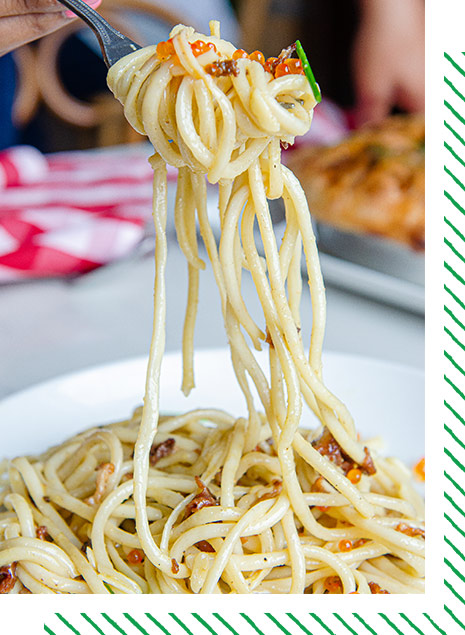 Our menus are always changing and we're always excited to introduce our latest dishes and specialty cocktails for your enjoyment. Get inspired by viewing our various menus.
TUESDAY-THURSDAY

8:00 AM – 9:00 PM
&nbsp
FRIDAY & SATURDAY

8:00 AM – 10:00 PM
&nbsp
SUNDAY

3:00 PM – 8:00 PM
(dinner service only on Sundays)
&nbsp
Our kitchen closes at 3pm each day
& reopens for dinner service at 5pm
(4pm on Saturdays) 
Visit our online store to purchase gift cards, special event tickets, meal kits, pastries, or even some new merch! We're constantly updating our offerings, so check back often.

Whether you're looking to cater an offsite event or want us to host your next celebration, family gathering, or work event, DiAnoia's has a variety of lunch and dinner options that are sure to meet the needs of your group.